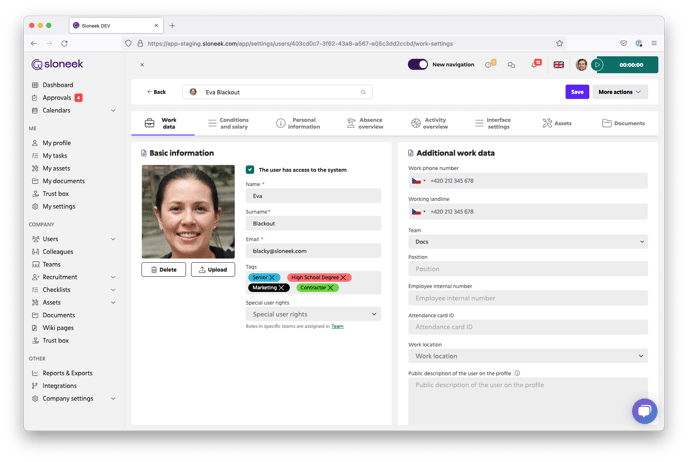 Each user has a profile, which can be flexibly extended via the Custom Fields. The user management is only accessible to users with the Administrator and Account owner roles.
Work data tab
Basic user information including team assignments, roles, notes, and Custom Fields to expand the recorded information across all users. For more information on setting up and editing Custom Fields, click here.
Conditions and salary tab
Details of working time, salary, deductions and bonus settings. In this tab, set the conditions for meal vouchers and meal voucher lump sums.
Personal information tab
A detailed overview of the personal data required to manage the user..
Absence and activities tabs
Overview and setting of absences and activities for a specific user.
Interface settings tab
Setting module visibility, managing alerts (notifications), an overview of Google and Microsoft integrations and a detailed audit log, all for a specific user.
Documents and Tools tabs
The tabs are displayed when the modules are activated. They contain the documents and tools assigned to the user.