List of all active and inactive users.
At Sloneek, you have a choice of two views of the user list (overview): basic and advanced. In both views you can (as in any other tables at Sloneek) search, filter, or export tables.
Basic view of a user list
In the basic view, only the following user information is displayed: avatar, first name, last name, status (active/inactive), roles, team, and email. This view has the advantage of less data and therefore faster table loading for larger numbers of users.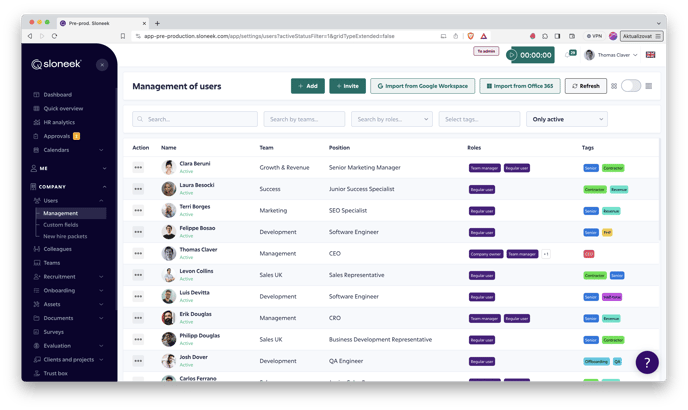 The Action button

will take you to edit, delete, (de)activate a user or reset a password. Password reset can be done by the user himself.
Extended view of a user list
The expanded view of the table can be accessed via the switch on the right above the table. In this version of the user list, you will find all additional information about the users such as start date, internal number, tags, date of birth, working hours, etc.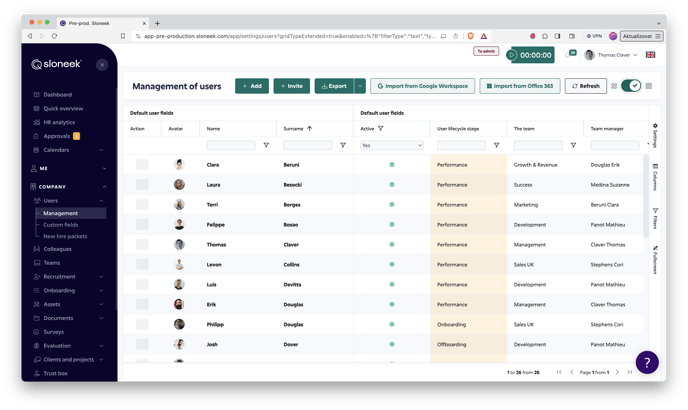 If you create any custom user fields, they will be added as an additional column at the end of the table. You can also export the entire list of users or any desired part of it at any time.
Tip: You can drag and drop columns, or hide and unhide them as you wish. To do this, click Columns in the right sidebar. Once you are happy with the resulting table configuration, be sure to save your view. Just click Settings in the right sidebar and name your new view.
Bulk editing of user data
When you need to edit information for multiple users at once, the easiest way to do this is in Company Settings / Bulk settings of absences. The columns highlighted in yellow are the ones you can edit after you double-click the mouse in a specific cell.
Data is automatically saved by clicking into another cell or pressing ENTER.
You can also insert data by copying (COPY / PASTE) from Excel. And even multiple cells in one column.