Kudos, important company announcements or an overview of your colleagues` vacations. A new company dashboard is here! However, there`s much more in the last update.👇
1) New company dashboard for all employees


Sloneek is not only a tool for HR departments and HR managers, but first and foremost also for all employees. They now get the opportunity to be even more involved in the company's life.

The initial dashboard with an overview of time worked or absence balances remains, but the name has been changed to the more concise Quick overview. In addition to these, however, a new dashboard has been created where all users will find:
Birthdays
Showing the birthdays of all employees in the next 7 days. There is also a button to send an immediate congratulations to the person. 🥳
Out today
Showing users who are not at work on a given day and are either using one of the Absence type (e.g. vacation) or are on homeoffice or a business trip.
Anniversaries
Similar to birthdays, the anniversaries of all users in the next 7 days are displayed. Thus, if an employee Petr Novak celebrates 5 years in the company, you can send him a congratulations immediately.
Upcoming time-off
Employees who will start their holidays or other absences in the next two weeks are displayed. 🏖
Kudos
We go with the flow and now allow managers and admins to add public kudos for selected users, entire teams, employees at work locations or with specific roles. 🙌 You can also attach text, images or gifs to kudos.
Announcements
Account owners and admins can also post important announcements on the company dashboard. For example, they can simply notify employees at a certain work location not to come to work tomorrow because there will be renovations. Or announce an upcoming team building. 🕺🍻 Announcements can be published for the whole company, each team or selected work locations.
IMPORTANT: The buttons New Absence, New Activity and Enter arrival/departure remain on both dashboards for ease of use - i.e. both on the new company dashboard and in Quick overview. Tasks to be completed and prompts to accept an asset or sign a document can be found on the new company dashboard.
2) Ability to edit own profile

Regular users can now edit their personal information by themselves and thus relieve from some administrative workload of their HR team. After clicking on their avatar and Profile, they will be able to edit an address or a bank account number.
However, the administrator will still be informed about the changes and can confirm or reject these changes in the Approvals section.
3) We welcome your feature requests

Your perspective on what functionality you need Sloneek to handle is important. We have prepared options for you to "vote" for new functionalities.

Under your profile you will find a link to the list of considered functionalities and extensions of the application.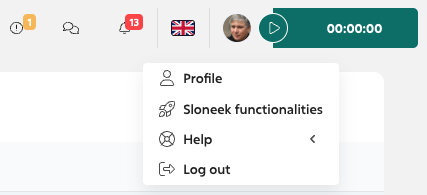 Your opinion is important to us in deciding what else will appear in the app!
4) Request all missing signatures for documents

Document management is now even easier. When some documents are missing signatures or some users still haven't viewed them, you can notify everyone to do so with a single click.

5) Other important changes

My tasks section redesigned
In the My Tasks section, account holders and administrators will only find their tasks. If they want to see tasks that they are responsible for, but that are also related to other users, they can find them in the Onboarding and tasks / List of all tasks section.
Fixing column descriptions in the Absence overview
In the user tab of the Absence Overview, there were some annoying situations when setting the parameters of absences, where the administrators lost track of the columns they were editing when scrolling down through the absences. Therefore, we have now fixed the top bar with column descriptions. 🛠
Modified Basic salary report

We have also added the Bonus and Deductions columns to the Basic salary report. This will allow you to see everything clearly in one place. ⚖️
Modification of the Meal vouchers according to works. times report
The report will also include information about the value of meal vouchers.
Clients and projects in the reports
If you have the Clients and Projects module enabled in your company, you will now find a section in the Overview of activities report where you will have detailed information about which client and project the activity was recorded for. This section also includes custom fields that you have created for clients and projects.
The Clients and Projects module is only available upon enabling it by the Sloneek team. If you want to try it out, reach out to us! 👀
6) Minor fixes