Entering arrival and departure
We call every arrival or departure in Sloneek an attendance event. These events can be recorded in three ways:
via the web interface, using a desktop computer or tablet.
via the mobile web interface, using a mobile phone
via a hardware terminal using contactless cards or chips
Web interface
The web interface can be found at https://app.sloneek.com. When using the web application, the user will see a box on their desktop with the ability to enter check-ins and check-outs.
Mobile application
The mobile app for iOS (Apple) and Android phones can be found under the links below.
Attendance terminal
Regardless of the type of terminal your company uses, you attach your card ( or chip, sticker, ...) to the reader and record your arrival or departure according to the terminal's instructions.
Entering the start of working hours
By clicking on Enter arrival, the user will be entered and the time worked for the day will start to be counted.
The action menu will also change - the user can choose to Enter departure (with a selection of attendance events, i.e. adding "where they are going"), or the simplified End of Shift action - in case they are simply going home.
Recording the departure
End of Shift does not offer any further action, if the user chooses Enter departure they will still need to select an attendance event or inform where they are leaving.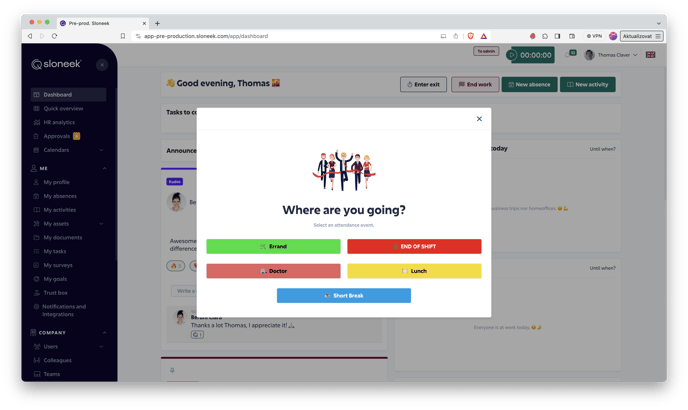 Please note: Absence and Arrivals and Departures are two separate modules. If an employee enters an absence of type At work (e.g. doctor) and you also record attendance using Arrivals and Departures, on the day the employee leaves for the doctor's appointment they should "clock-out". Similarly, when their return from the doctor, they again enter an arrival.

As a result, there will be no discrepancies in the reports for the balance as the balance is calculated purely on the basis of hours recorded by arrivals and departures. There is no need to enter anything for absences of the Free time type.