There are a number of major changes, new features and bug fixes in this update.

1) We have redesigned MENU
Why did we make the change?
The new version of the menu provides an overview at a glance. It is divided into several coherent units:
Part = Dashboard (nothing has changed) + Approvals (the section where absences and activity approvals are displayed - what has changed is where it is located, not how it works) + Calendars (formerly the Events section).
Part = The ME section gives the user an overview of everything that concerns them as a user. Including detailed absence and activity overviews.
Part = COMPANY gives managers, administrators, and account owners an overview of the sections they can manage, and gives employees an overview of the sections of the company they may be interested in (such as wiki pages).
Part = OTHER aka what doesn't fit elsewhere. There are reports and exports, integrations and company settings. The content has remained the same.



2) Changes in absence management
Adding a new absence - dialog box
When adding a new absence, people often clicked on the calendar but nothing happened, so they were confused. Nowadays, if someone clicks on the calendar, they get a message before selecting the type of absence.

REMINDER: we allowed the entry of absences that went from month to month
NOTE: This type of absence cannot be added back for more than X days.
We have added a warning when creating/adding an absence in case an event time limit is set for the absence and the user tries to exceed that time limit.

Newly, the warning "This type of absence cannot be added backwards for more than X days" - ( X is a variable by setting).
Adding the display of information entered in the absence calendar using "hover"
Events - Absence Calendar - Timeline View - displayed absences as small rectangles from which nothing could be read. So we added n information about the hover view.


3) Display photos from the user profile in the organizational structure

In the organization tree (Company / Teams), the employee's photo will be displayed if he/she has uploaded one. If not, an avatar icon with the employee's initials will be displayed. For new employees or larger companies, this helps with introductions and greater awareness.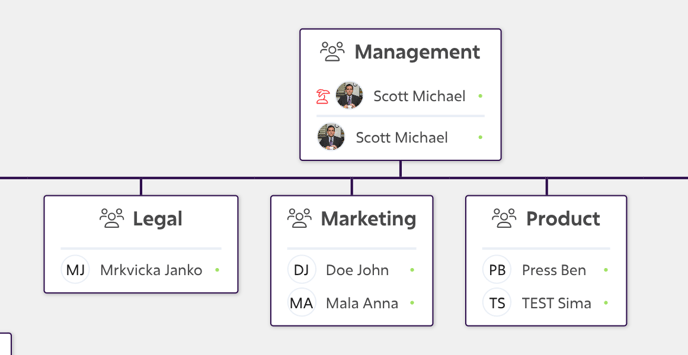 4) Info about the new "wiki page" to email
If a new article is created in the company wiki, all users will receive an email notification. This way no one will miss company news.

5) Upcoming comments (from user fields) to email
A new email reminder has been added to the email notification type Anniversary and Date. The notification is sent 7 days prior to the date that is listed in the user's profile.

6) New payment management
The new billing provides more comprehensive billing for Sloneeka. A single package system and a single price. But most importantly. We have significantly reduced the likelihood of card payments for Sloneek services going unpaid due to bank non-verification.
7) Bug fixes
Finally, we haven't forgotten about fixing the bugs that occurred in the application. Thank you for reporting them!