Switching calendars based on users' country of operation and improved activity timetracking options.👇
1) Display public holidays by user's country of operation

In the last app update, we introduced the ability to assign a Country of Operation and a Region in the Country of Operation to each user in their card. Based on this, the system automatically pulls the user's public holidays from the database, which is crucial for the correct calculation of the work fund and absences.

We have now taken things a step further and enabled the public holidays of users according to their country of operation to be displayed directly in the calendars. For each user, the country code is shown in brackets. If you include a user who works in Germany in the filter, the system will automatically show German public holidays in the calendar.

At the same time, however, the calendar will also display the public holidays of the company's country, depending on how it was set up when the account was created in Sloneek: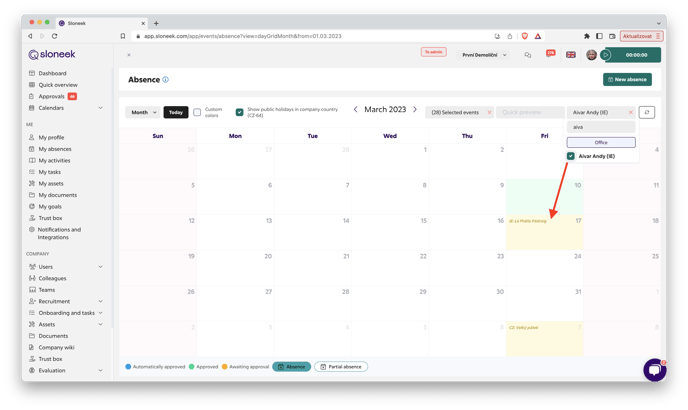 2) Clients and projects can be found in the menu under Company

For better clarity, we've moved the client and project settings to a more visible place under Company in the left menu. At the same time, we remind you that you have the option to assign the Client and Project Manager role to a user.
3) Modifications to timetracking activities

Now all users can also edit activities that have been entered via timetracking. By clicking on their detail in the calendar, the time, project, client and activity category can be edited.
We have added a button to clear the lines for faster entry of activities. When the user now runs a timetracking activity in the upper right corner, they can clear the preset parameters from the last tracked activity with one click.
We've added a blue "Play" button to each activity detail in the calendar. When the user clicks on it, it automatically starts timetracking the activity according to the same parameters as the activity the user is in:


4) Images on the main desktop as a carousel

When you attach multiple images to a desktop notification, they will appear as a carousel to users. At the same time, when users click on one of the images, they can switch between them freely.
5) Minor bug fixes
We have also fixed a number of bugs in the display and behaviour of the app that you have reported to us.