The long delays are gone. The new asynchronous reports are here. 👇
1) Asynchronous reports

In its first, BETA version, asynchronous reports are available for Absence and Activity modules. In the following few weeks we will also make asynchronous reports available for other modules (e.g. Arrivals and Departures).
Reports such as the Overview of activities and departures or Absence Summary, which are generated for all users at once and for a longer time interval, can contain a huge amount of data. This slowed down not only the application, but also your entire workload when you had to wait for the report to be processed.

The magic of asynchronous reports is that when you create a report with a large amount of data, you can leave it running with peace of mind and start working on something else in the application. The report will continue to be generated and when it's finished, you'll get a notification in your app and in your email that everything is ready. In addition, you can also check at any time how much percentage is left to complete the report.
On top of that, you can also configure custom report sets with the desired data. Then you can easily launch these sets for selected users, teams or company-wide: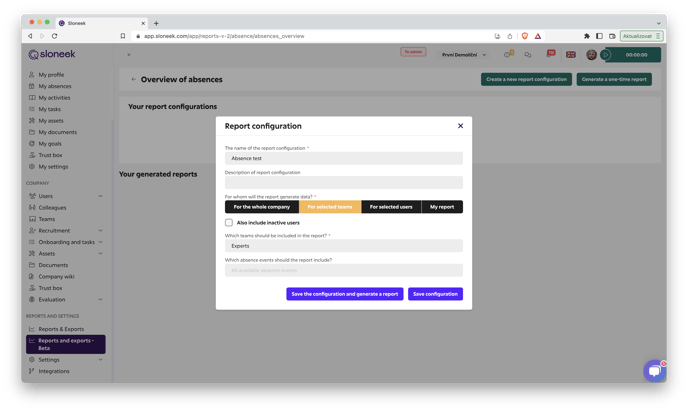 You can also include inactive users in BETA reports and generate a report for them as well.
2) Other important improvements
Underlining of currently valid working hours, salary or bonus


To make things a little clearer, these following information in the Conditions and salary tab in each user`s folder will be underlined:
working hours
salary
deduction from salary
bonus
Notifications for the Performance module

Each user will now receive a notification in the app and in their email whenever a goal is assigned, edited or completed.
Smarter filtering in the calendar

If you were working with filters in calendars and had multiple items selected for each filter at the same time (e.g. you wanted to filter four different absences for three users), until now the filters collapsed under the duplicate label "(4) selected items" and "(3) selected items" respectively. Now each filter will clearly state what it shows, i.e. "(4) selected events" or "(3) selected users".
Filtering active/inactive clients and projects

To make it easier to work with clients and projects, we have now added the ability to filter them based on whether they are active or inactive.
You won't forget to add working hours to a new user

Once you add a new user to the system and click Save, the application will automatically ask you if you want to assign work hours to the user as well.
Assigned working hours are crucial for the proper functioning of the entire system. Without it, the user cannot draw absences or record activities or attendance.
We return attendance information according to arrivals and departures

Based on your requests, we have decided to return the attendance information of your colleagues to the Colleagues section according to the recorded arrivals and departures. This makes it easy to see who is at work on any given day again.
3) Minor bug fixes
We have also fixed a number of bugs in the display and behaviour of the app that you have reported to us.