Sloneek mobile app brings a range of functionality from the desktop version straight into your pocket.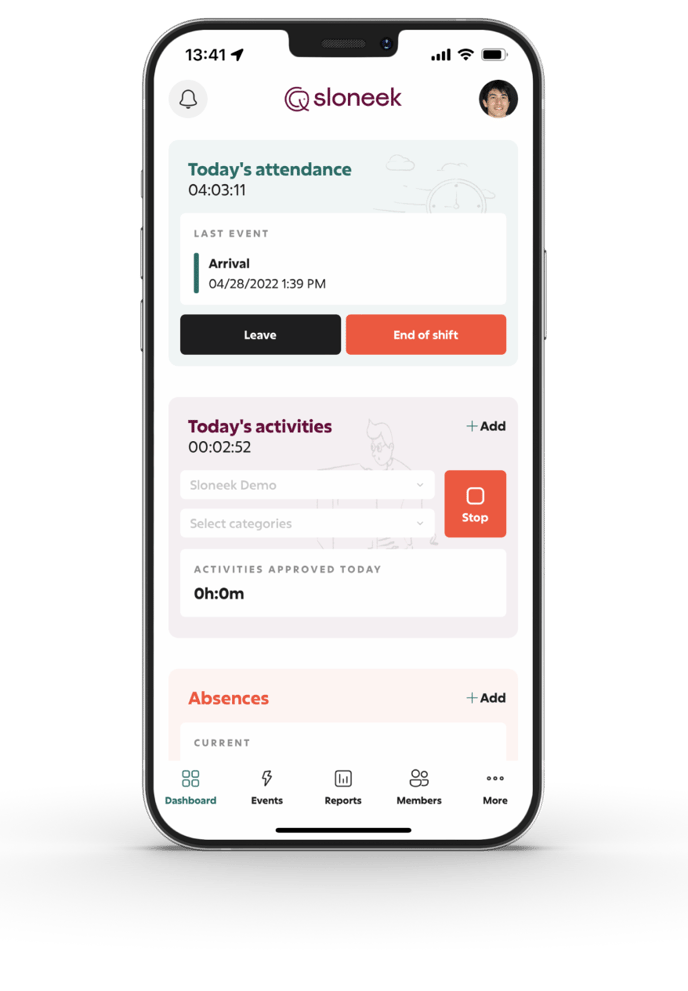 The mobile app for iOS (Apple) and Android phones can be found under the links below 👇.
What can you find in the mobile app?
Contacts and reports
All employees and their contact information in one place.
Managers can review reports for their team members
Time tracking, work planning and reporting
Starting and stopping time tracking events
Overview of time worked on various projects and tasks
Managers can approve time spent on work for their team members
Absence management
Team members can see their status and available days or hours, according to their yearly remainings, that they can register.
Team members register their vacation events using an interactive calendar.
Managers approve vacation events within simple workflows.
Managers can also filter and examine all events of their team members.
A detailed view of each absence event allows interactive actions and writing comments.
Smart notifications when event status changes.
Company attendance
Team members register their arrival to work (clock-in) and departure (clock-out).
Attendance events are monitored with GPS, and paired with predefined company locations, such as Headquarters, Warehouses, or Customer sites.
Commenting on attendance events, for example when an employee wants to explain a reason for early leave or late entry.
Smart notifications
On / Off boarding checklists
In general, with minor exceptions, the functionality is about the same as in the web app.

Specific functionality of the mobile app:
you cannot edit a task in the mobile app
Checklist cannot be edited
the mobile app can only change task statuses
via the 'status' drop-down list in the task details.
drag&drop in kanban

Any user regardless of role can see:
A user with the Administrator role can see all tasks. A user with the Team Manager role can see all tasks of the team. A user with the User role can only see his/her own tasks.