Creating a document from a template
Use auto-fill fields to quickly prepare documents from ready-made templates.
Create a document template
A document template is created by a user with the Administrator or Document Manager role from the Documents / Templates.
Click Add to open the new template editor. The text itself is edited using tools similar to those in Word.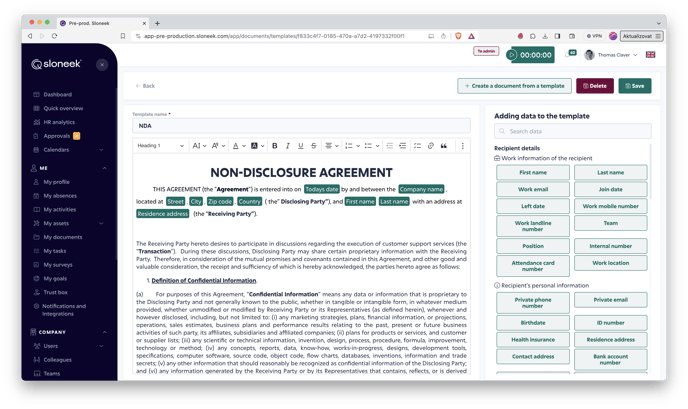 Fill in text as needed with fields you want to automatically insert into the document from the user's card or company information.
After saving, you can create a new document directly from the template by clicking the Create a document from this template.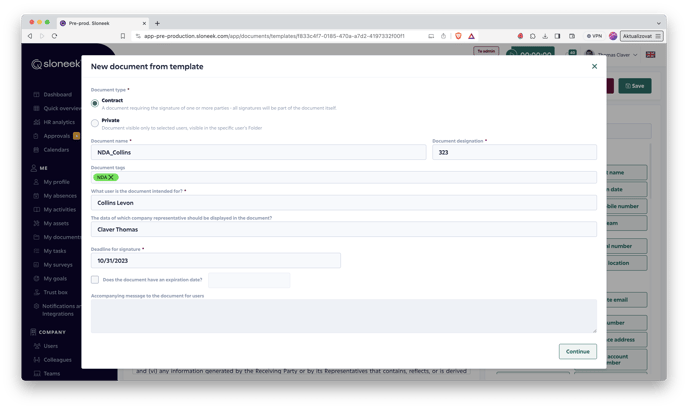 Create a document from the template
Create a new document directly from template edit, overview of templates or overview of all documents. In the Document Type, choose between Contract or Private Document depending on the number of signatures required for the document. You fill in the remaining information, including the signing parties and the date of execution information.
In the next step, select the template you want to use from the list.

You can click Continue, review the document again and click on the Create a document button. At this point, the signatories (or just the specific user) will receive the document for signature in their email and desktop application.